The briton magazine Corporate Vision just announced the winners of its Technology Innovator Awards, 2019 edition. And with "the most cutting edge B2B carsharing solution", Mobility Tech Green wins its first global price of the year! A rewards that confirms the international ambition of the company based in Rennes, France, in this decisive year.
---
Magazine specialized in business strategies, Corporate Vision offers on its website and in their monthly issue a wealth of informations aiming business leaders. Through case studies and managerial and technological news, the magazine gives a comprehensive overview on today's business landscape.
Since its creation five years ago, Corporate Vision organizes the Technology Innovator Awards. This rewards program puts a spotlight on innovative solution that help improving the daily of companies. It's in this context that Mobility Tech Green showcased its carsharing solutione-Colibri™, which won the Corporate Mobility Innovation Award 2019!
---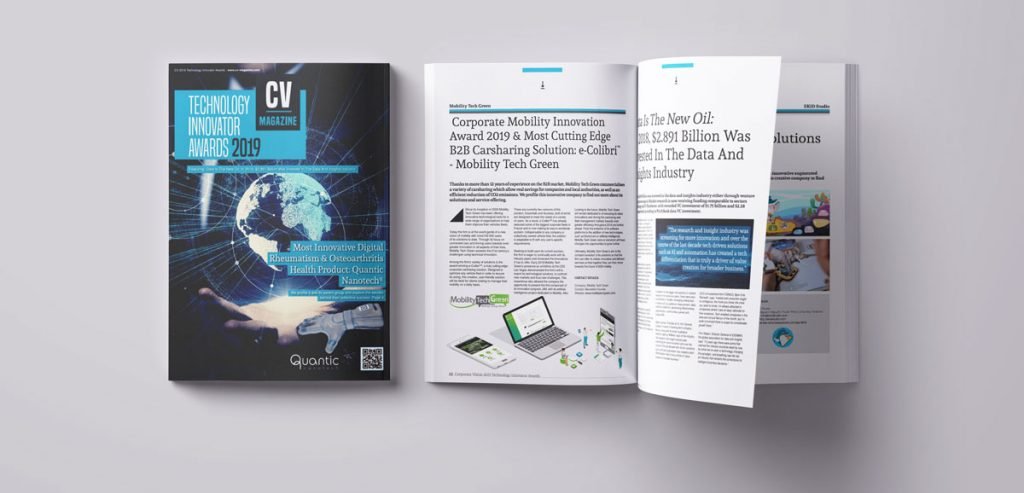 Read the article dedicated to Mobility Tech Green in the last issue of Corporate Vision Magazine
---
An award for an international ambition
---
Mobility Tech Green it's…
---
A timely new award! Indeed, 2019 is a year full of evolutions for the mobility solutions developped by Mobility Tech Green.
Concerning fleet management, we launched the new version of our back officein april, in order for it to be more intuitive and efficient for fleet managers.
It was also a new step for our multimodal mobility offer, with the addition of bikesharing. We launched this new service thanks to a partnership with the company Mobendi.
Other projects are under development, as part of our research and development program for the new three years. Coming soon!
"We are very proud to win this new award. We care about offering a maximum of mobility solutions for our clients, in an environmental and economic approach. This recognition motivates us to constantly go further in the mobility sector."
Pascal Roux, CEO of Mobility Tech Green