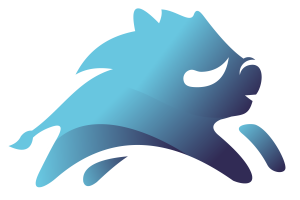 e-Fleet™
Data

to serve your

mobility
e-Fleet™ supports you in the energy transition of your fleet required by the legal and environmental context! Diagnose the use of your vehicles and make your fleet evolve in the right direction thanks to your new work tool.
Interested? Download our free leaflet to learn more about e-Fleet™.
Diagnose

the use of your vehicle fleet.
With e-Fleet™, get accurate usage data for your company vehicles to perform a must-have audit of your fleet.
Real-time data feedback
The e-Fleet™ solution, thanks to our proprietary ODE on-board calculator, allows you to centrally and immediately obtain real usage data from your vehicles. Average mileage per trip, utilisation rate, fuel and battery levels, alerts, etc. All this information allows you to carry out a complete diagnosis of your current fleet and to adapt it as best as possible to usage and anti-pollution regulations.
Access to a statistics dashboard
To help you analyse and understand this data, the e-Fleet™ solution provides you with a complete statistical dashboard. From this, easily export reports on the use of your fleet to analyse them, and benefit from the keys of comprehension in order to interpret the results obtained!
Not connected mode
Do you want to integrate non-connected vehicles into your fleet analysis? It's possible with the non-connected mode! Add vehicles to the e-Fleet™ platform and enter the data obtained manually (such as mileage data) on the platform in order to obtain, initially, a global diagnosis without equipping all your vehicles.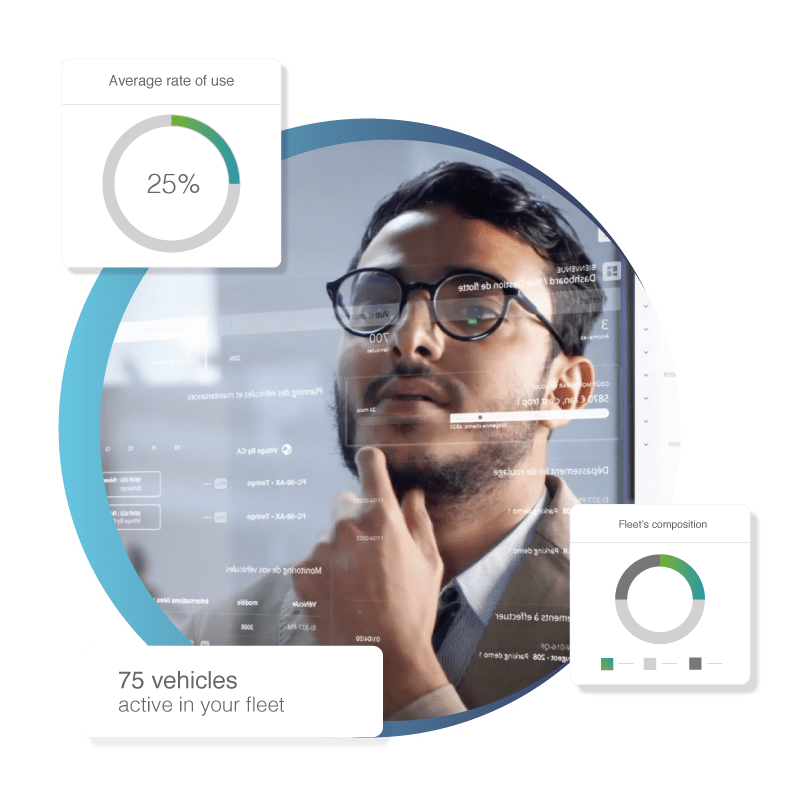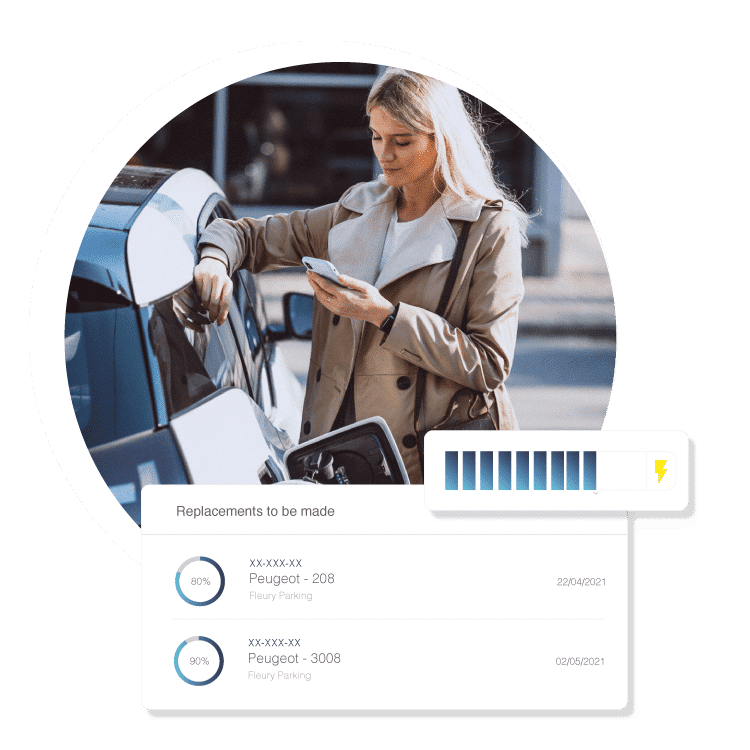 Get into
compliance

with the climate laws.
e-Fleet™ will become your daily tool to monitor the activity of your fleet but also to make the greening of your fleet evolve in all serenity over the long term in order to comply with the new regulations.
Convertibility score
In addition to usage data, the e-Fleet™ solution also allows you to obtain an electric convertibility score for each of your equipped vehicles. Based on a precise data set, the system is able to give you a score from 0 to 100. The higher the score, the more likely your vehicle is to go electric! This is a way of combining regulatory compliance and respect for your employees' actual uses.
Electric charge monitoring
Once hybrid or electric vehicles are integrated into your fleet, e-Fleet™ allows you to obtain real-time data on their charge rate. All this to always guarantee a quality of service to your employees and to send them alerts in case of low charge rate on their company vehicles.
Project follow-up
Our team will support you throughout the life of your fleet conversion plan! We work in several stages to ensure optimal adoption of the new vehicles and compliance with your structure.
A single interface for
360° mobility

.
More than a fleet analysis tool e-Fleet™ allows you to reinvent your corporate mobility. Manage all your travel modes on a single interface and evolve your offer by including car-sharing in one click!
Integration of all vehicles
Our e-Fleet™ solution can be installed on a wide range of vehicles. Thermal, hybrid, electric of course! But also on your alternative modes of transport such as company bikes for example.
Unified vehicle monitoring
With your entire fleet on a single platform, it's easier for you to manage them on a daily basis and react quickly to any anomalies. Would you like to include service vehicles in addition to your company vehicles? This is possible thanks to an easy coupling with our car-sharing solution, e-Colibri™.
Coupling with car-sharing
Having a common structure, our e-Fleet™ and e-Colibri™ solutions can work in parallel. Benefit from a management tool for company vehicles combined with a car-sharing system to pool your service vehicles, all from a single platform!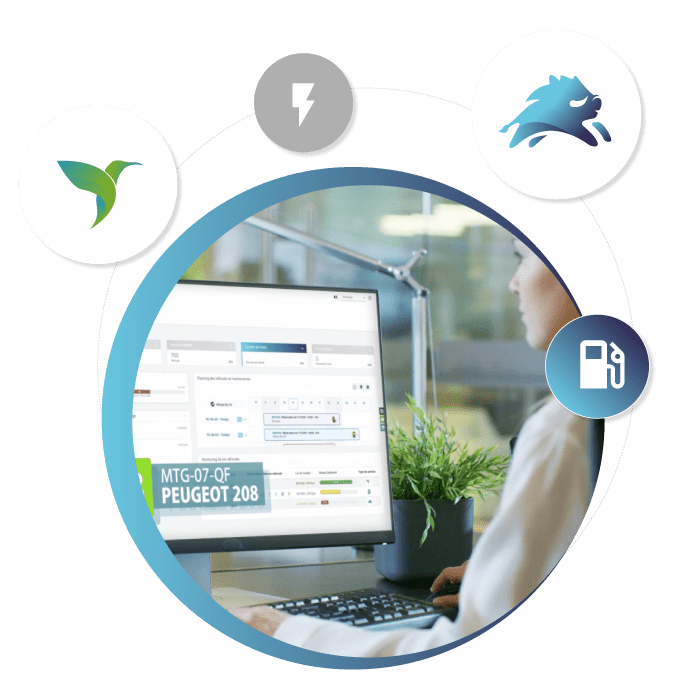 Want to discover the e-Fleet™ solution?