We had already tackled the subject of the blockchain revolution in a previous thematic file. Bitcoin, minors, decentralised register… As many notions that still feed a collective fantasy around this technology which definition is often misunderstood. In a study published at the end of 2017, the Deloitte research company gives us a vision of Mobility in 2030, essentially transformed by the peak of the blockchain and of its new uses.    
---
At the heart of this revolution, the management of vehicles. For the fleet manager, a vehicle becomes a good that needs to make as much profits as possible thanks to its 24/24h self-service availability. Vehicles can easily be booked from a smartphone or a connected watch. In order to maximise even more the costs, the intelligent vehicle manage its own ecosystem, from the planning of its maintenances to the management of payments. 
To go further, each autonomous vehicle is automatically equipped with a virtual wallet itself connected to the fleet financial management system. This way, each additional service used (cleaning, toll, on-board movie rental, electric vehicle charging…) is directly charged on the user via a dematerialised invoice. Thanks to the blockchain technology, which is secured and decentralised, the manager can have an easy access to the history of payments of one vehicle in particular.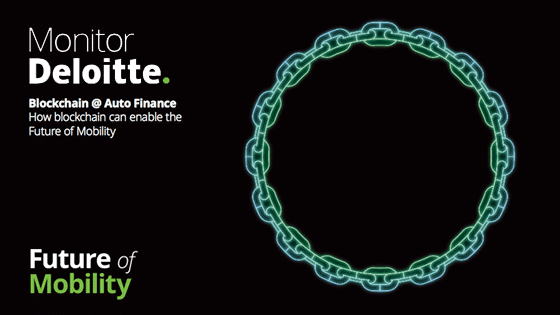 For the manager, this would constitute a significant progress for invoicing and maintenance planning operations. For the user, it is the promise of a more flowing and harmonious customer experience since the use of this virtual wallet enables micro-payments using crypto-currency. 
---
A new era for the automotive industry 
---
In a previous study published in 2016, Deloitte already drew up an accurate table of mobility's technologic future, with four main steps: a first step of progressive change in which the automotive market is losing power, then a global acceleration of the carsharing market, followed by a revolution of cars without drivers (autonomy) and finally one last stage with the coronation of the autonomous and shared mobility, with the concern of an optimum user experience at its centre. It is at the heart of this fourth stage that the blockchain technology would reveal its true potential and would result in a growing use of autonomous and shared vehicles.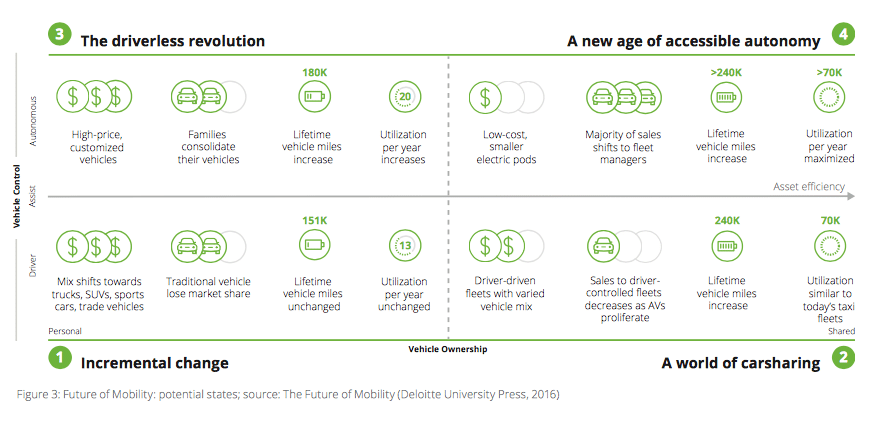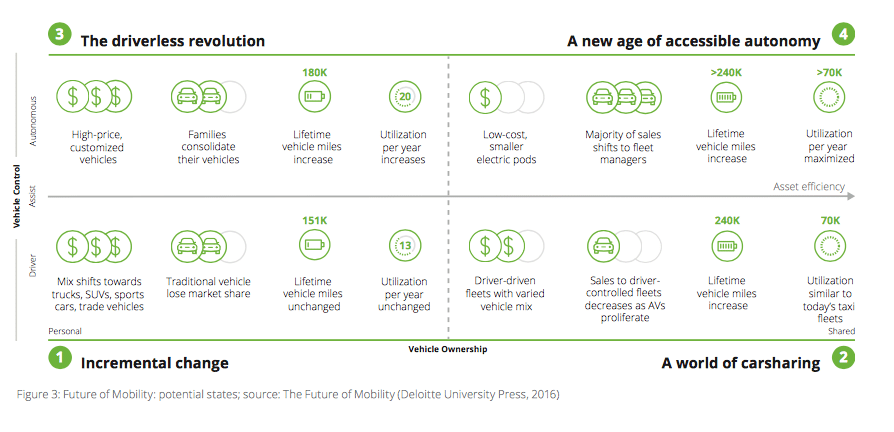 ---
Actual use case of the Blockchain 
---
In this era in which new economic models need to be found in order to answer the current paradigm shift between ownership and usage, car manufacturers need to take advantage of every technological opportunity and the blockchain is one of them. Why is that? Simply because it would allow a further expansion of mobility's ecosystem, through the reduction of the complication of various additional services. Deloitte illustrates its report with various interesting use cases: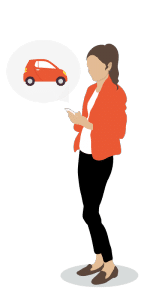 Identity management: Shared mobility means a constant necessity to know who drives the vehicles at every moment. Data management needs to benefit both parties: the manager as well as the final user. When it comes to the manager, he needs to have a better knowledge of the user journey, to have access to a history record to be able to suggest relevant offers. On the user's part, the main concern needs to be the data protection, using decentralised and secured financial transfers. 
Payments: One of the big challenges undertaken by car manufacturers thanks to the blockchain is to be able to equip each vehicle with a transactional independency using virtual wallets. This solution would help the easier invoicing of additional services during the use of a given vehicle with micro-payments. 
Vehicle's use history: in order to keep tracks of a history of goods, the blockchain would be a great way to obtain in a more transparent way every information pertaining to the use of a vehicle in anticipation of a sale for example, the information being accessible to everyone on a shared record, price and services' adjustments would be done in a more accurate way. 
Loyalty programs: The blockchain could help in the development of the loyalty programs offered by mobility service suppliers thanks to faster transactions and an easier communication with external service providers. Alongside, thanks to the programming of automated rules, smart contracts will enable the allocation of tokens in an autonomous way depending on the client's activity. 

Financial and operational management: in a more practical point of view, and for fleet managers, the blockchain could also prove to be a genuine asset to win in productivity. For example, the standardised automation for reimbursements pertaining to insurance, a sometimes time-consuming task and with no specific added value. 
To integrate the blockchain in a new business model is to invest on a genuine emphasis on mobility as a service. Particularly interesting for fleet management, smart contracts have a great chance to disrupt daily vehicle management enabling the automation of various business processes.