As the status of fleet managers is shifting to mobility managers, the definition of a corporate fleet itself is evolving faster than we've ever seen before. So long individual company cars and hello to a flourishing corporate Mobility-as-a-Service (MaaS).
---
During the 15th edition of Intelligent Mobility, Frost & Sullivan's annual conference on mobility trends, the answer has been clear: not only our mobility habits are changing, but it's also deeply impacting the way we travel when working. IoT and data science have forever transformed mobility management by giving new powerful tools to fleet managers.
The Global Mobility Market grew from 315 billion dollars in 2016 to 440 billion dollars in 2017. Among the trends that will help this economic growth to continue, carsharing seems to be particularly promising. From 22 million users today to 45 million by 2025, this kind of mobility will be a staple in highly populated urban areas. It's not only carsharing but more globally shared mobility which is becoming more and more attractive, especially for corporates. While in 2017 corporate carpooling in Europe and North America combined represented about 6 million users, it should be up to 20 million users by 2025!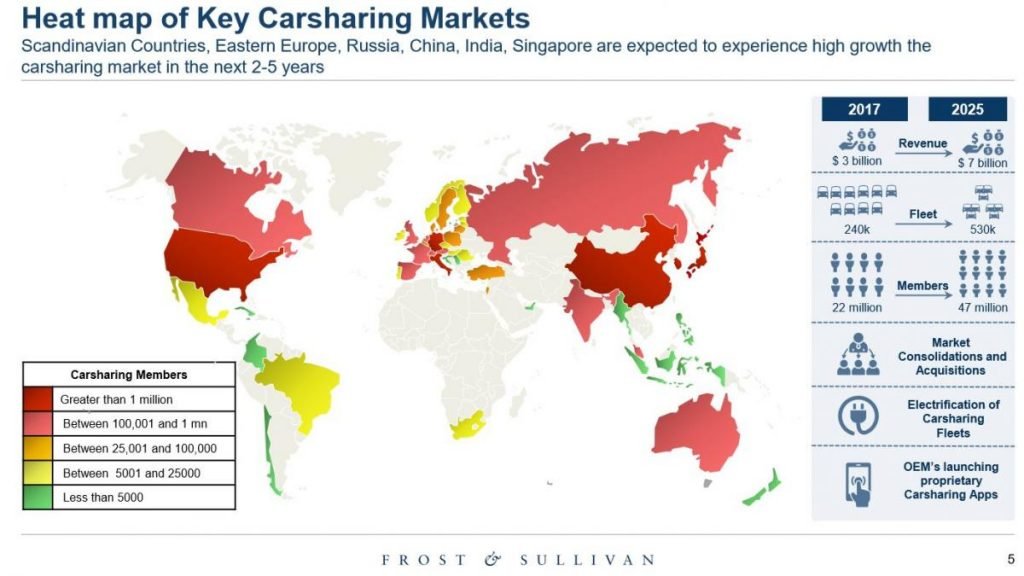 What Frost and Sullivan is noticing is that mobility today is centered around the user, and not the vehicle anymore. As a consequence, B2B and B2C markets are converging around the idea of an optimal user experience for the individual who is as much as a consumer as an employee of a company. For automotive and mobility players, the corporate market is a golden opportunity as it can be a real doorway to introduce consumers to new mobility models and type of vehicles.
---
It's electrifying!
---
One of the actions we can cite is the deployment of electric vehicles in corporate fleets. For people who are not accustomed to that typology of vehicles, it can allow a first experience on board, during a journey for a meeting for example. For companies located in urban or semi-urban areas it can be ideal for short travels.
As stricter and stricter regulations are coming about diesel vehicles, other alternatives must be found by mobility managers in order to anticipate and avoid financial penalties. EVs could be an answer, as long as batteries costs keep decreasing and governmental initiatives encourage the installation of adequate charging infrastructures.
---
Corporate fleets are just not only for cars anymore
---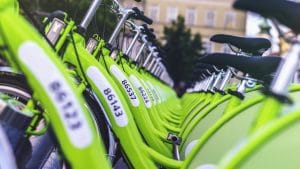 Of course, one of the largest part of corporate fleets is represented by transportation companies owning trucks or semi-trucks. In this case, motorized vehicles are an operational necessity. But for companies wishing to guaranty mobility needs for their employees, cars are not always the answer. As we stated before, a lot of  business activity areas are urban. And so the use of an individual company car is not required for a lot of travels. More and more mobility managers understand that and decided to include other equipment in their "mobility mix". Corporate shared bikes are booming, as well as carpooling between employees thanks to dedicated parking spots.
The mobility manager is not only managing vehicles but really ensures the good functionment of a mobility ecosystem.
---
Drivers? Where we're going, we don't need drivers!
---
But the biggest technological race of the moment is surely the one to conquer the secret of the perfect autonomous vehicle. Self-driving vehicles could be an inestimable asset, as they would be used both for personal and professional trips.
Let's imagine. A company could acquire a couple of autonomous vehicles. During the day, they are booked by employees to go to meetings, conferences or even to commute. When they are not used, they could be dispatched to be used by other companies' employees or individuals during evenings and week-ends.
Of course, the upront investment is rather significant, some vehicle costing as much as $100,000 nowadays. But prices are expected to drop by 90% in the next seven years, meaning that autonomous vehicles won't be a luxurious asset anymore. Corporate fleets will then be able to integrate them to their overall mobility strategy far more easily.
---
Cover: Ideo