As part of the European Mobility Week, which took place during September, the vehicle leasing company ALD published a study concerning the mobility of the europeans, conducted with the research firm Opinion Way. This research especially examines the relationship between the users and the « new mobilities », in order to better understand their rate of adoption as well as the levers of amelioration.
---
Conducted online with 5021 respondants across five countries (Germany, Spain, France, Italy and Netherlands), this survey revealed a few interesting numbers on daily mobility and the use of an invidual vehicle.
This latter is considered far more necessary in the personal sphere (50%) than in the professional one (36%). For example in France as much as 54% of the interviewed persons think that the use of a private vehicle is not useful for their travels during work hours. Thus, a professional environment could be ideal to discover new kind of mobilities, such as carpooling, short or long-term rental, and even carsharing.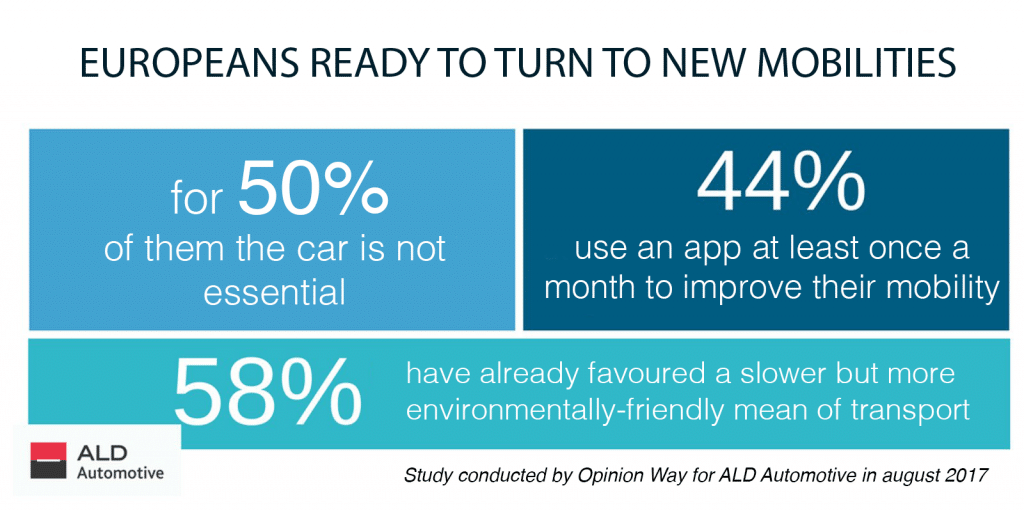 ---
A progressive adoption of alternative mobilities
---
Among these new ways of travelling, carpooling is definitely the most popular one today, 27% of the surveyed declaring that they already used this type of service before (up to 34% in Germany). Overall 76% knows carpooling, using it or not. It is closely followed  by long-term lease (12%) and chauffeur-driven car (10%).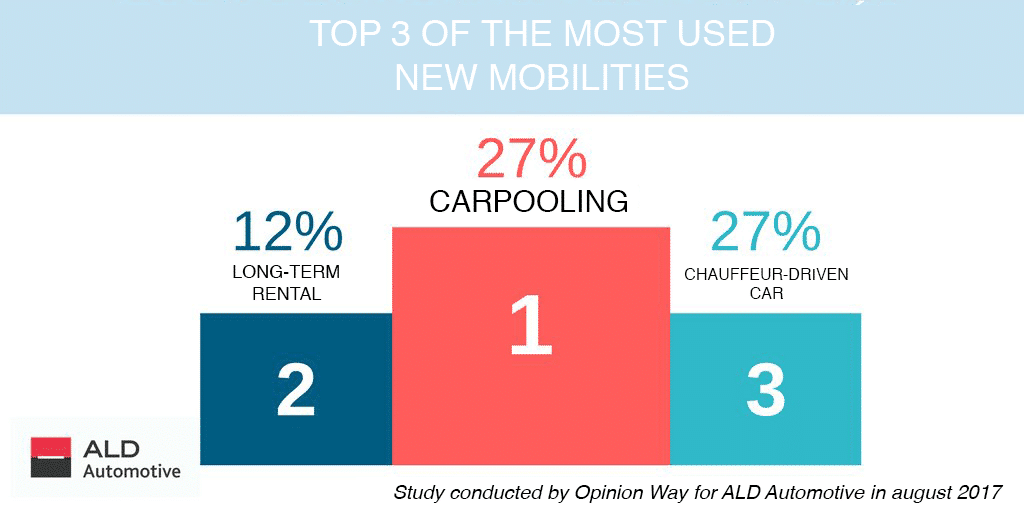 The use of these new means of transport varies depending on the situation: to go shopping, people prefer to use car rental between individuals (34%) while they will choose public transport to go to a job interview (55%) or to go to and from their place of work (50%). These modes of transportation, far from being competitive, are complementary by responding to different needs.
Driectly linked to this evolution, the increasing use of mobile applications relating to mobility is also interesting to observe: respondants are mostly using public transport applications (44%), but also road traffic/GPS applications (29%), carpooling applications (16%), carsharing applications (11%) or chauffeur-driven car service application (10%). The main advantage of these mobile applications? A real time overview on the travel, that allows adjustments if necessary.
---
Reducing the budget and the carbon footprint
---
The study also takes a closer look at the perceived advantages of carsharing, a mobility that tends to be more and more popular for both private and professional travels. For the surveyed persons, its adoption is tempting for three main reasons:
It is a source of savings (58%)
It offers a great flexibility (26%)
The booking process relies on simplicity (14%)
Thus carsharing is mostly chosen because it offers a less expensive alternative to owning one's own vehicle (purchase, maintenance, parking…). Using a shared vehicle whenever needed, by booking it in a few clicks, offers a new kind of freedom.
Finally, another data is to be taken into account: the will to be more « eco-friendly ». 58% of the respondants declared to prefer using a slower mean of transport if it's more respectful of the environment.
Discover the full report:  

---
We can clearly see in the results of this survey that corporate mobility could be an excellent way to introduce new mobilities to drivers. Users are more likely to experiment in a work environment and first and foremost to reconsider the use of an individual vehicle, by opting for alternative solutions such as carpooling, rental or carsharing.