Each generation has very specific behaviours and value systems. Millenials, due to the advent of the internet as well as the current economic climate, are deeply reinventing current consumption patterns. The way they buy and sell products as well as services are pushing companies to search for new and innovative business strategies in order to reach this clientele.
---
Among them, the automotive industry is especially affected: according to a survey conducted in 2013 by Goldman Sachs with its interns, 30% of millenials do not wish to purchase a car in the future. 25% said that they will only buy one if they feel like there is a real need for it, otherwise they don't mind using alternatives to travel, such as public transport, carpooling or carsharing.
For Jeremy Rifkfin, author of The Zero Marginal Cost Society: The internet of things, the collaborative commons, and the eclipse of capitalism, in « 25 years from now, car sharing will be the norm, and car ownership an anomaly. » That prediction is already confirmed by the cultural shift between ownership and access to mobility services, that doesn't imply as much responsabilities and cost as an individual vehicle.
---
Sharing instead of owning: a new kind of freedom?
---
According to a report by Boston Consulting Group, one-quarter of miles driven in the U.S by 2030 will be through shared and/or autonomous vehicles. Companies are already experimenting new businesses models to attract customers. One idea particularly appealing is the possibility to allow subscribers of a carsharing service to use different types of vehicles depending on their current needs –from a convertible car to plan a romantic weekend to a minivan when travelling with all your family.
In the United States it announces quite a change, the car culture being part of the country's history. For decades, American cars have been linked to a sense of freedom, independence and style for their users. But being able to use a shared car whenever you want instead of owning one, or use ride-hailing services any time you need to go somewhere might be the new « freedom » car ownership once promised. On-demand services, with the rise of hyperconnectivity and mobile applications, are more than ever on the rise, especially among millenials.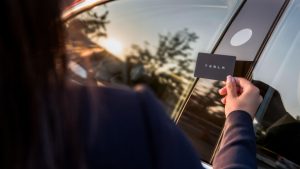 But it seems to be only the beginning of a new entirely "customizable" era for the mobility market, as car manufactors aim to provide immersive and personal experiences to customers. Among them, Tesla is particularly ahead of the game, with several innovations that will make car sharing more easier and enjoyable to use. The one that interests us the most is the idea advanced by Elon Musk to connect every Tesla so that they can adjust automatically to a specific driver needs. You won't have to worry anymore about adjusting your seat, your mirrors or to battle during 10 minutes with the GPS to enter your destination: the car will be ready to go! A real advantage for car sharing, as many people use the same vehicle- and yes, they don't all listen to the same tasteful music as you do!
We are going to move all info and settings to the "cloud" (aka server) so any Tesla you drive in the world automatically adjusts to you

— Elon Musk (@elonmusk) 20 août 2017
This sort of services could be decisive to convince new customers to turn to carsharing rather than using their own car, by making them feel that they are the "true" owner of the shared vehicle and listening carefully to their feedbacks in order to adapt.