As cities grow bigger and roads become even more congested, it is time to apprehend commuting as a real stress factor for employees. Long commutes performed every single day can indeed have a negative impact on the employee's productivity by causing tiredness and a lack of motivation.
---
Recent studies show that traffics are not getting better: a poll made by Car Parts 4 Less in the UK demonstrated that half of UK workers (51%) spend an hour or even more each day travelling from and to work. At this rate, the eight hour work day becomes rather a myth than reality for most of commuters.
---
Promoting alternative ways of commuting
---
But let's not dwell! Employers can be a real force of change, by informing their workforce of the many commuting options available to them, apart from the use of an individual vehicle. A map showing the most convenient transit options nearby (bus stops, train stations, carsharing and bicycle-sharing stations…) can be a very simple yet effective tool. The company also has the possibility to conduct a survey in order to better understand commuting habits and therefore offer the most suitable solutions.
Small financial incentives can also be quite efficient. Employers can propose corporate bike-share or carsharing memberships to help make commutes less exhausting for the employees.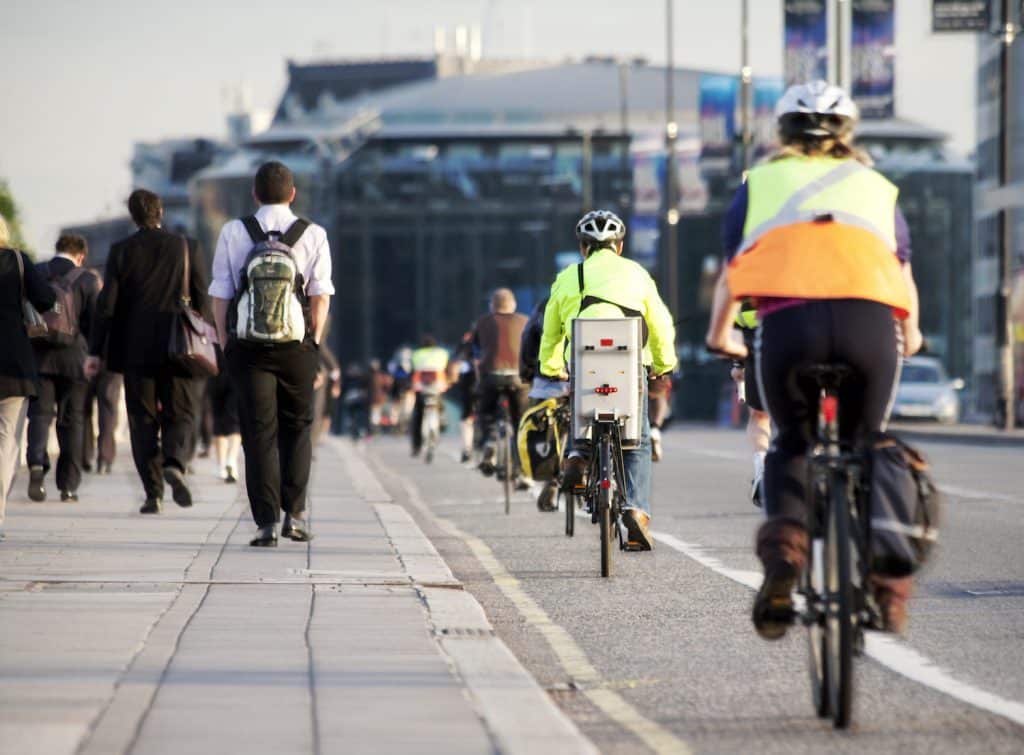 This kind of initiatives represents a fondamental part of the corporate social responsability (CSR). It perfectly responds to the triple bottom line used to evaluate CSR: People, planet and profit. People, by improving well being at work; Planet by inciting employees to turn to more sustainable ways of travelling; and at last Profit, by saving money on fleet and commuting budgets, both for the company and the employees.
---
Fed up with congestion, he swims to work everyday
---
Some people found even more imaginative ways to commute to work. It is the case of Benjamin David, an inhabitant of Munich in Germany. Stressed out by the congestion along the Isar River, even when he was on foot or on his bicycle, David decided to take a less… dry path.
For some time now, he's been swimming two kilometres to work everyday, whether it's summer or winter. The trip usually takes him 15 to 25 minutes depending on the current and if he just decides to relax and float his way to work. Benjamin explained to the BBC that this morning routine has helped him relieve his stress levels, while he just enjoys the view of the historic buildings on both sides of the river. Some courageous swimmers have joined him in this very unique way of commuting, creating a small community that always surprises passersby.
Not willing to go for a swim? Discover our corporate carsharing solution to improve the way your employees and partners travel during work hours and even during weekends!