With its new report conducted with Strategy Analytics and published in June, Intel brings us to 2050 where pilotless vehicles are now deeply involved in our societies. What changes could this new mobility induce? Could this « Passenger Economy » redefine everything we know about the automotive market? By building use cases and advancing numbers, this forecast aims to enable business decision makers to better understand the opportunities but also the issues at stake in order to develop efficient change strategies and take part to this autonomous revolution. 
---
In this report, Intel engaged Strategy Analytics to predict the economic impact of the Passenger Economy once fully autonomous vehicles are available for mass market in 2035 and by 2050 represent almost 50 percent of all vehicles sold worldwide.
A real change of paradigm will occur: mobility won't be about driving but to be driven, converting drivers to passengers. It is of course about the economic value generated by the use of pilotless vehicles but also the societal impact of it. It will be a really long road for companies and cars manufacturers to convince of the autonomous vehicles' safety, as a large part of consumers are still quite skeptical about it. But it in the end, it could mean significant savings for users as well as a new way of living and commuting, especially in urban areas.
---
The road to the passenger economy
---
For Intel and Strategy Analytics the passenger economy will be the result of market trends that are already emerging.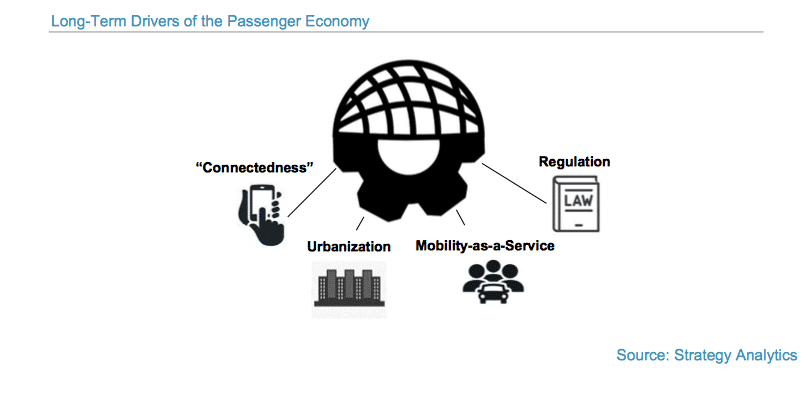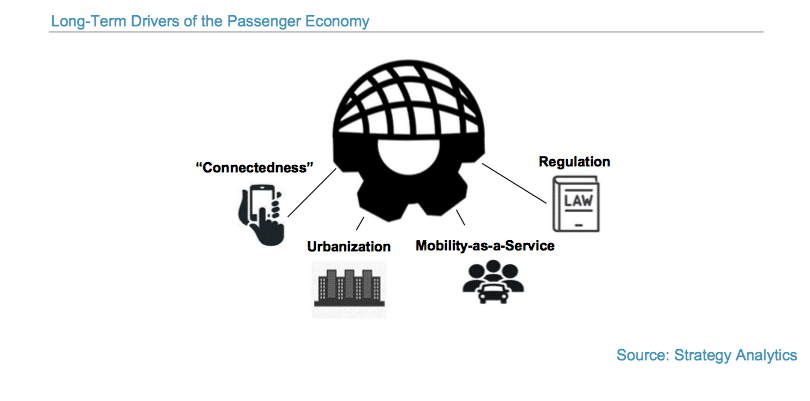 Mobile connectedness: Most of consumers, from every demographic and geographic backgrounds, own  connected devices and automobiles. This hyperconnectivity blurs the limits between work and personal life, as social networking became the primary form of human interaction.
Urbanization: Nearly two-thids of the global population will live in urban environements by 2050: the question of mobility and commuting will be at the heart of tomorrow's preoccupations for local authorities and urban planners.
Vehicle sharing and rise of mobility as service: As ride-hailing and carsharing are on the rise, the next step will be the creation of third-party transportation services exclusively based on autonomous vehicles. This will represent the main door to the B2C Passenger Economy, as more and more consumers are already attracted by shared and connected mobility.
Regulation: Traffic congestion, pollution and road safety are issues as important in emerging as in mature markets, being costly, dangerous and harmful to productivity. Thus, new regulations are applied to offer a more secure way to travel and pave the way for future ones, dedicated to the circulation of autonomous vehicles.
---
The value of the Passenger Economy 
---
The Passenger Economy could represent as much as a global US$7 trillion opportunity in 2050! This wide use of fully autonomous vehicles will generate substantial consumer revenues (55%) and business revenues (43%) by impacting a large range of activities, from customized mobility services to logistics or automated package delivery.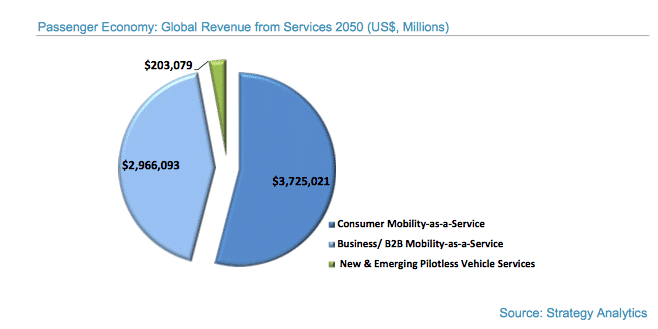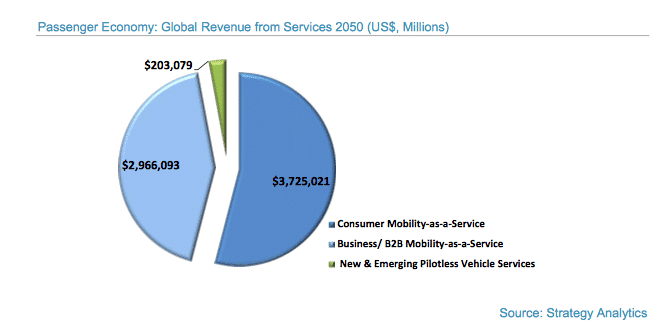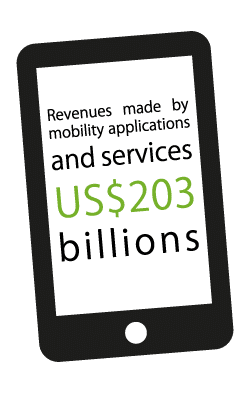 From the consumers point of view, it will be a deep disruption of the car ownership and personal mobility model. But when we know that the average car sits idle 92% of the time, the rise of networked and highly personalized services will appear as a logical alternative by answering to any on-demand mobility needs. Consequently, the revenues made by applications and services will represent US$203 billions. In addition, it will help cutting public safety cost due to traffic accidents by 234 billion from 2035-2045.
As for businesses such as transportation companies, autonomous vehicles could resolve a  problem they are facing today: an aging workforce who can't be properly replaced due to a lack of qualified new candidates, especially in the long-haul transportation market. More than our way of travelling, it could change the nature of work itself by freeing time and allowing employees to be given new missions.
---
The autonomous revolution is already beginning, but the next decades will be decisive in order to convince the public of all the benefits that these technologies could bring. Local authorities and companies will have a pivotal role to play by listening to the users needs or concerns and providing efficient change strategies.

Cover Illustration: Volvo