Diversify your corporate mobility offer with our multimodal platform
Specialized since 2009 in carsharing for companies and collectivities, Mobility Tech Green now presents a multimodal offer for the mobility of your employees. Complementary means of transportation to always provide the most relevant vehicle when you need it, where you need it!
I want more information
Contact our team of mobility experts to discover which mobility service(s) fit your specific needs!
The multimodal offer by Mobility Tech Green
The regulatory framework around mobility in urban areas changed dramatically during these last few years. And companies, whose vehicles are representing a large part of the automotive fleet in circulation, have an essential part to play in this evolution. That's why Mobility Tech Green imagined a multimodal and flexible mobility offer, to answer both the individual issues that companies are experiencing as well as the collective ones!
Aware of the important changes that is facing corporate mobility today, Mobility Tech Green wished to go further than carsharing by developing a complete mobility offer, from the first to the last kilometer! Thanks to many feedbacks from our clients and with the help of precious partners, we are able to provide a wide range of complementary services. And with our first priority in mind: always answering to actual needs in terms of corporate mobility.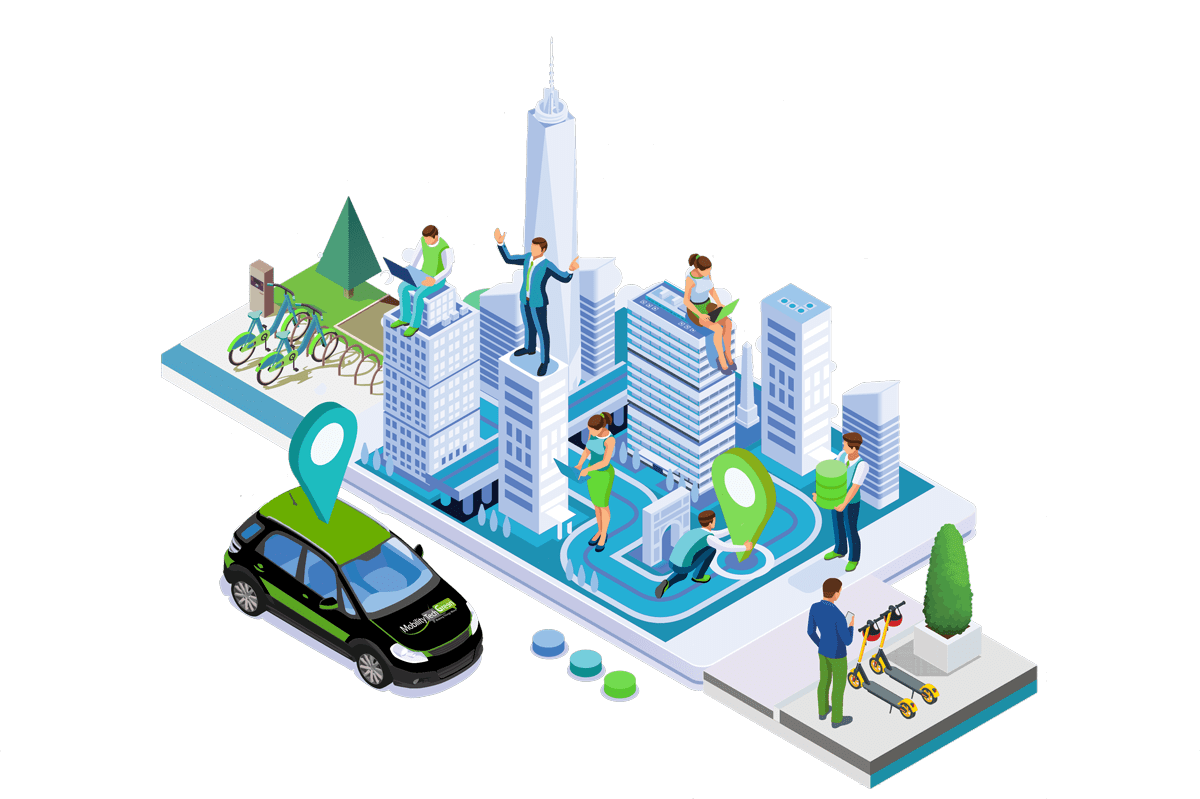 Carsharing
Our core business for almost ten years! The corporate carsharing solution e-Colibri™ ables you to pool the use of your fleet's vehicles by making them available in self-service. A way to improve the mobility of your employees while taking care of your budget.
As part of this carsharing offer, we can also offer the pro/perso option. By adding this option, your employees can book vehicles for evenings and weekends for a promotional rate.
Carpooling
When booking a shared vehicle, the user can decide to open his travel to carpooling. This option is a perfect way to optimize even more the use of your vehicles while creating a positive social dynamic between your employees.
You can also offer carpooling for commuting thanks to our network of partners.
Bikesharing
Most recent service added on our multimodal platform bikesharing is a very interesting solution if you want to make your corporate mobility "greener"! A fleet of electric bikes in self-service can be included in your mobility offer and bookable directly from the e-Colibri™ platform!
Focus: why choose bikesharing for your corporate mobility?

Boost your carbon footprint reduction
Bikesharing can be really beneficial yo your CSR (Corporate Social Responsibility), especially to minimize your environmental impact. Choosing to ride a bike it's most of all choosing a mean of transportation emitting zero gas emission and no noise pollution. A way to contribute to the improvement of the urban environment!

Save on your mobility budget
By adding electric bikes in self-service, your company can, on the long-term replace parking spaces and reduce the TCO (Total Cost of Ownership) of its fleet. How? By analyzing the typology of the travels made by the employees. A user of electrically assisted cycles reduce in average by 69% the use of a personal motorized vehicle for commuting and by 65% the use of service vehicles.

To offer an active mobility to your employees is also a mean to participate to their well-being at work. Indeed, practicing a regular physical activity can have an important impact on the productivity of the employees and reduce the stress related to parking problematics.